11 December 2005 2 comments Misc. links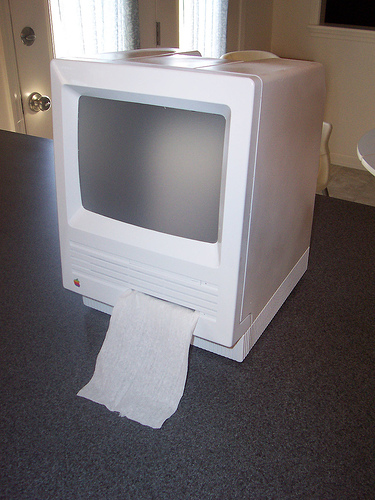 Is this geeky, trendy or just practical?
"Well, as soon as I saw the Mac SE case, I realized that this one had the most potential. So this weekend, I bought a few things at Home Depot and got started making my Apple-powered, wireless, portable toilet paper dispenser

the iWipe."
I don't really need a toilet paper holder but we do need a spice rack/shelve in the kitchen and I have an old medium towered PC box that one might turn into something. Perhaps a rectangular flower pot?
Previous:

have or has? 8 December 2005

Next:

ALTER TABLE patch 12 December 2005
Related by category:
Related by keyword:

apple.com/store doesn't work in Firefox (on Linux) 19 March 2008